Introduction
Product instruction
The Pushbutton Series are used in controlling circuit of AC voltage up to 660V/AC50Hz or 60Hz, and DC voltage below 400V. It is used for controlling signal and interlocking purposes. The main body of the push buttons adopts zinc alloy and high-grade anti-flam plastic. The contact adopts special silver alloy in order to enjoy the benefit of high anti-electrical erosion. The signal lamp series are suitable for electrical appliances circuit of AC voltage up to 380V/50Hz, and DC voltage below 380V. It is ideal for using as indicating signals, warning signals, emergency signals, etc. Our products comply with IEC60947-5-1.
Model and meanings

(1) Denote middle base material, "B" in it means metal type, "E" in it means plastic type

(2) Letters denote structure type:
A: Flush button C: φ40 Mushroom button R: φ60 Mushroom button D: Standard handle knob
J: Long handle knob G: Key switch L: Convex button P: Button with water-prood cover
S: Turn to release type emergency button T: Push and pull type emergency button
W: Button with lamp K: Switch with lamp H: Auto-locking economic button V: Indicator lamp

(3) Optional, blank denotes normal type signal lamp, "1" in it denotes economic type signal lamp

(4) The number after U.A.P.C.R.T.L. means color (refer to table a)
The number after D.J.G.K. means the method of rotary switch (refer to table a)
The number after V means the voltage and middle base structure (refer to table c)
The number after S means mushroom head: 4 means φ30; φ40; 6 means φ60
The number after W means the style of head (refer to table d)
(5) The code of contact type: (the number after S means color)
1 means 1NO 2 means 1NC 3 means 2NO 4 means 2NC 5 means 1NO+1NC 6 means 3NO 7 means 2NC+1N0 8 means 2NO+1NC
a. Color code
1: White 2: Black 3: Green 4: Red 5: Yellow 6: Blue 7: Clear
b. Number code denotes all rotary knob
2 means 2-Position stay put 3 means 3-Position stay put 4 means 2-Position spring return 5 means 3-Position stay put
C. Voltage code
3 means 110V~130V Transformer; 4 means 220V~240V Transformer; 5 means 380V Transformer; 6 means 220V~240V direct type; 7 means 220V~240V resistant type; 95 means 415V Transformer
d. This position is defined as follows
1 means diffusion button with raised smoothness cover 3 means diffusion button with flush smoothness cover
Work environment
1. Surrounding temperature:-25℃~+55℃;
2. Air relative humidity: ≤85%;
3. It can be normal work under following condition: Vibration frequency is 2~80Hz and acceleration speed is 0.7g/h;
4. Pollution grade is Ⅲ, installation sort is Ⅲ, protection grade is up to IP65.
5.Altitude: ≤2000m
Note
PG denotes pure green; PW denotes pure white
Main technical parameter

| | | | | | | | |
| --- | --- | --- | --- | --- | --- | --- | --- |
| Pushbutton | Description | Contact | Circuit | Color | Sign | Type | Contour |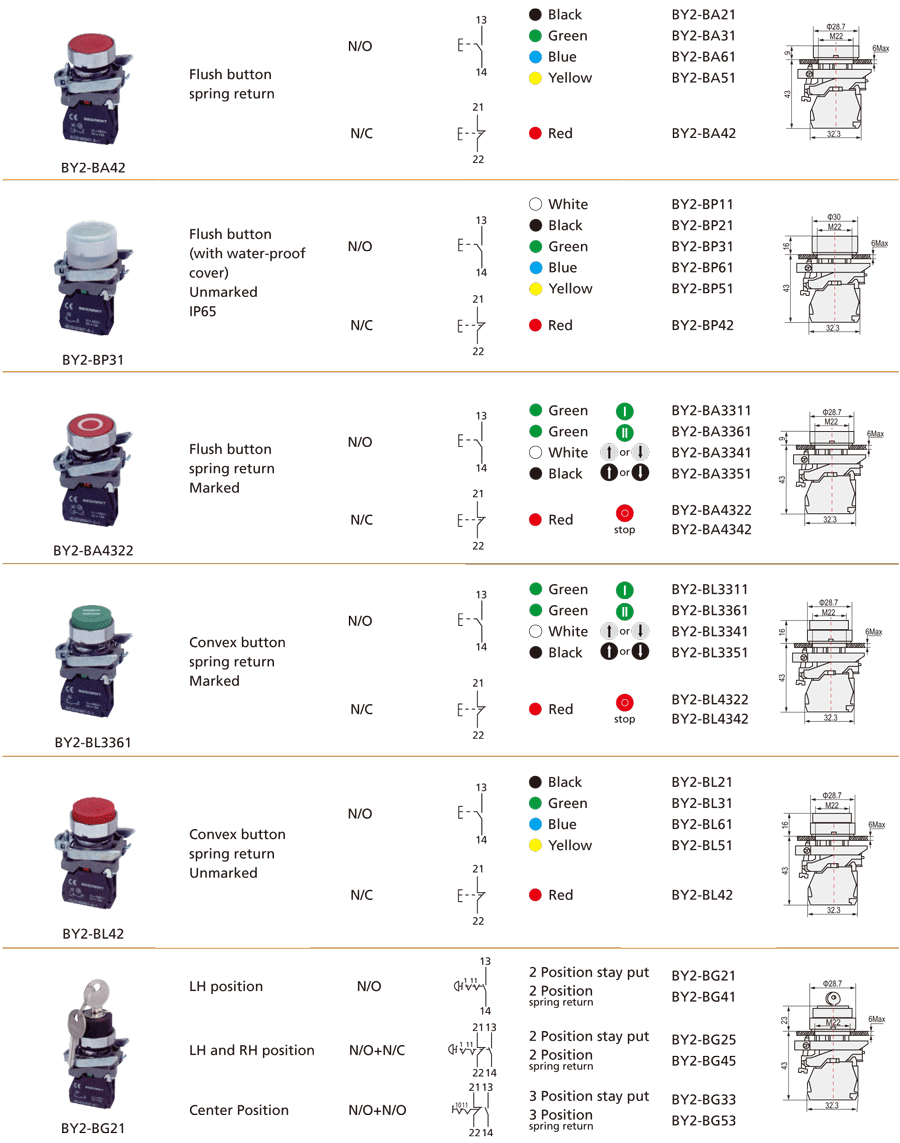 ---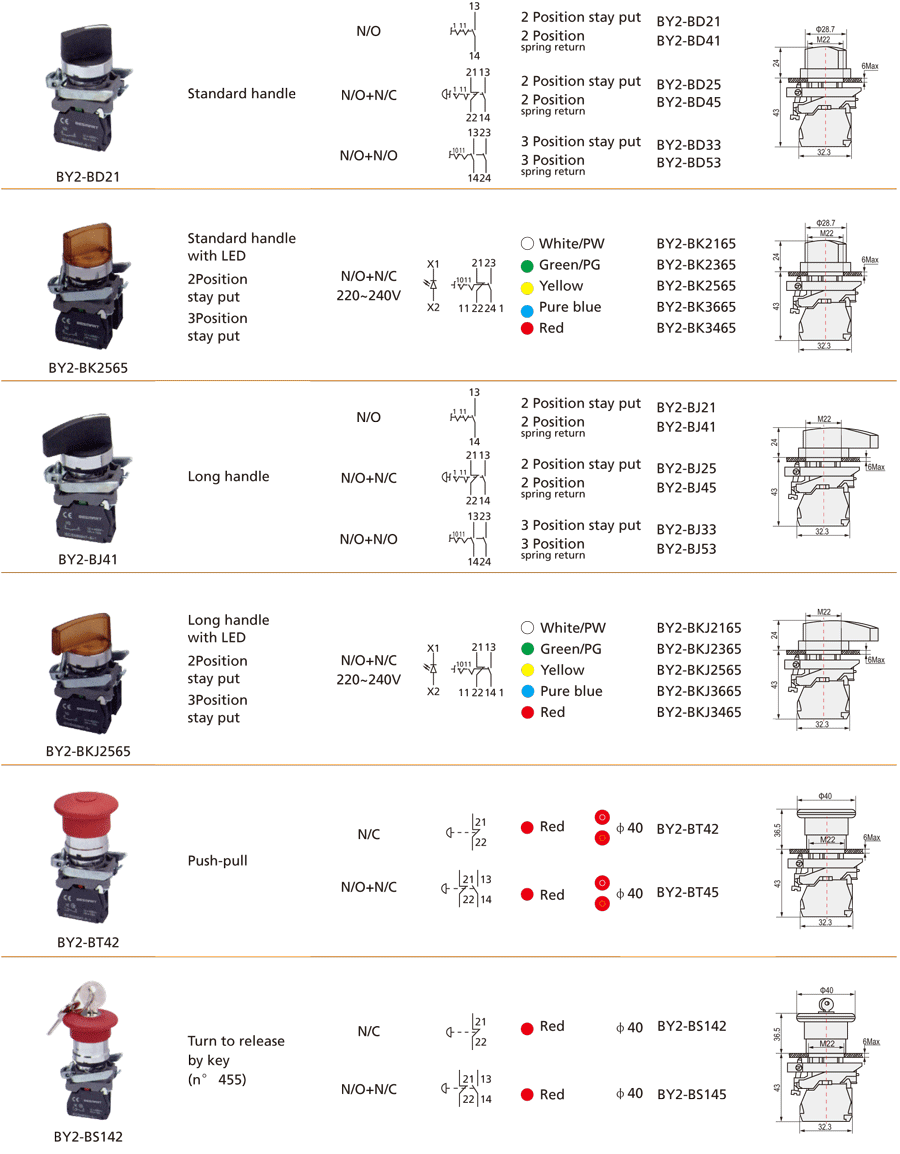 ---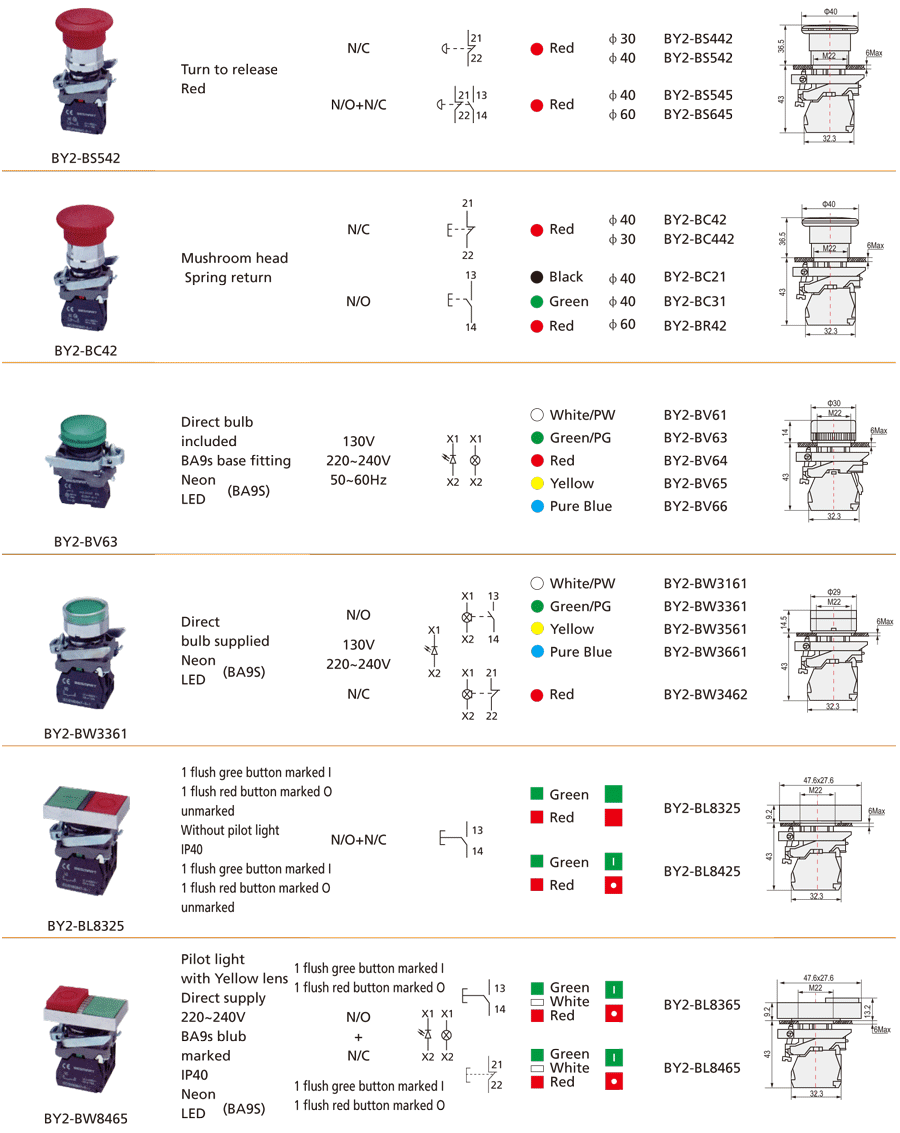 ---